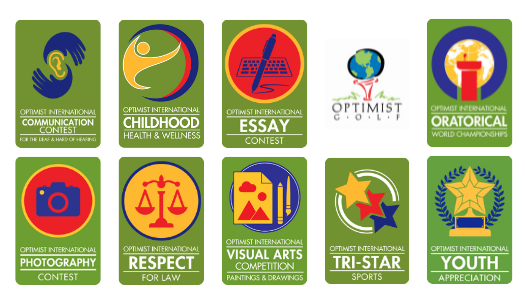 Optimist International has many programs that clubs can offer to engage their local communities. information is included below about each program and a link is provided with information on starting each program within your club.
CCDHH
This Communication Contest for the Deaf and Hard of Hearing (CCDHH) offers an opportunity for children who are deaf or hard of hearing to present their thoughts in the community, gaining skills, which can only come from signing or speaking to a large audience. Patterned after the Optimist Oratorical Contest, the Communication Contest For the Deaf and Hard of Hearing offers hearing impaired youth the chance to compete in speech or sign language. The Optimist International Foundation and Ohio District fund a $3,500 scholarship.
Childhood Health and Wellness
The Childhood Health & Wellness Program will build on the highly successful Childhood Cancer Campaign to expand our impact. Clubs and Districts will now have the opportunity to initiate projects and services to improve the quality of life for children in their communities across a broader spectrum of needs.
Essay
Optimist International, with funding from the Optimist International Foundation, sponsors an essay contest with a grand prize of a $3,500 scholarship ($2,500 from Optimist International and $1,000 from The Great Ohio District) to the Ohio District winner. Boys and girls under the age of 19 are invited to submit an essay on a pre-assigned topic during the months of October, November, December, and January each year.
Junior Golf Championship Qualifier
Every year there are two Junior Golf Qualifiers for Ohio Junior golfers from age 10 to 18. Winners of either tournament qualifies the golfer to go to "The Optimist" at Doral Resort in Miami, FL
Oratorical Contest
The Oratorical Contest provides an excellent opportunity for students to develop important public speaking skills. Any student is eligible to participate who is under the age of 19 as of October 1st. The District winner of the Oratorical Contest receives s a 3,500 scholarship ($2,500 from Optimist International and $1,000 from The Great Ohio District).
Photography Contest
Optimist International is conducting a photo contest to assist young people with developing an interest in the area of photography and to expose them to "The Optimist Creed" and our philosophy of Optimism. Students are asked to submit photos that illustrate/exemplify one of the ten tenets of "The Optimist Creed."
Respect for Law
Optimist Clubs participate in activities to inspire respect for law enforcement among young people and to educate them on the jobs these brave men and women perform. Events are also held to promote a sense of well-being in the community such as child ID events, poster or essay contests on alternatives to violence and various family-friendly activities.
Tri-Star Sports
Offering a friendly basketball, baseball, soccer, football, in-line or ice hockey skills, lacrosse, curling, or golf competition may be just what your Club needs to serve your community's youth.
Visual Arts Contest
This exciting competition is designed to encourage and celebrate youth visual art skills and gives the youth we serve another outlet for their creativity!
Youth Appreciation
Optimists recognize youth for a variety of reasons, including their achievements at school, dedication to community service, improvement in their grades and doing their best in sports or the arts. This activity allows Optimists to build the self-esteem of the youth in their community and show them that their efforts and hard work really do make a difference.