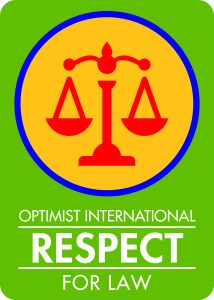 Honor our Law Enforcement Officers
Optimist Clubs participate in activities to inspire respect for law enforcement among young people and to educate them on the jobs these brave men and women perform. Events are also held to promote a sense of well-being in the community such as child ID events, poster or essay contests on alternatives to violence and various family-friendly activities.
In July 1965, a discussion between Past Optimist International President Carl Bowen and former FBI Director J. Edgar Hoover resulted in the birth of the Respect for Law program. This is the fourth most popular program with more than 1,500 Clubs participating each year. Over a quarter of a million law enforcement officers honored by thousands of Optimist Clubs around the world over 50 years.