My first boss at The University of Akron would often say, "there is nothing more consistent than change!" That aptly describes what has happened with the Ohio OIJGC Program in 2017.
After 36 years with a state-wide pre-qualifier format, Ohio conducted separate 18-hole tournaments, one in the North at Tam O'Shanter on June 12, and another, one week earlier on June 5, in the South at the Golf Club at Yankee Trace in Centerville. Each had up to 24 qualifiers advancing to play in what has come to be known simply as "The Optimist" at the PGA National Resort & Spa in Palm Beach Gardens, FL that was held from July 18 till August 2.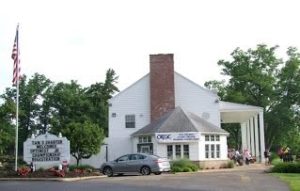 That change was brought about by a steady decline in participation around the state over a four-year period. Although we had continued the same tried and true successful process previously developed by Dr. Tom Frazier and Bill Brewer, since 2013 we have seen a precipitous drop in registrations. We had 464 junior golfers registered in 2013, 401 in '14 and 376 in '15. However, our largest drop ever of 104 to a low of 272 occurred in 2016.
What was most difficult for us to accept was that we no longer could claim to be the largest in Optimist International. We lost that title, which we have held for over 30 years, to North Carolina by just two golfers.
We are also sorry to report the change to a state-wide-two-tournament format has not stemmed the drop, although minimal, in registrations. In the middle of May, with only 50 golfers registered, there was some consideration for cancelling the Ohio North Tournament because it wouldn't have been economically feasible. Fortunately, we got 65 more registrations prior to our tournament. The Ohio South, however, did well with 146 golfers for an Ohio District total of 261, eleven less than our total in 2016.
Thanks to our 19 volunteers and a beautiful sunny day, the Ohio North Tournament went off without a hitch. In fact, we have had perfect weather at all seven tournaments we have had at Tam O'Shanter!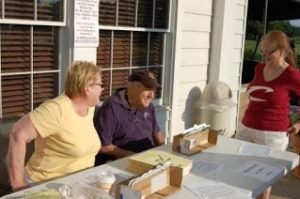 Although Ohio had 48 golfers, trailing only Colorado (50) and Florida (49), participating in "The Optimist", in Florida, the Ohio North had only 18 qualify, including six gender/age group winners who got their registration fees of $650 paid. Normally, we would be paying for seven winners, however we did not have anyone shoot a qualifying score in Girls 10-12. As a result, we gave financial assistance of $550 to another 16-18-year-old boy.
The Ohio North's winner in the Girls 13-14 Division, Madison Spiess, turned in the best finish in Florida. The New Albany lass fired rounds of 77, 75, & 70 to finish tied for third. Last year's OI Champion in the Boys 14-15 age group, Vandalia's Austin Greaser, representing the Ohio South, moved up an age division and finished tied for fourth with rounds of 76, 69, 69 & 75, six shots out of first place. Both Spiess and Greaser automatically qualified to play in the 2018 Optimist Championship.
One of the happy stories of the Ohio North Championships came from the boys 16-18 division winner. Emmett Caskey, who lives in Green and attends North Canton Hoover High School, came into the tournament with an 18-hole average of 80. We always have the lower average golfers off first so Emmett was in the eleventh threesome to tee-off. He proceeded to shoot a lifetime low score of 69, one under par, to capture his very first tournament title of his young career.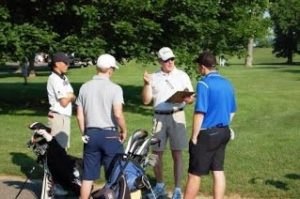 I am also proud to report that despite having only 115 registered golfers we ended the year with a surplus by keeping our expenditures to a bare minimum. However, our biggest savings came in our awards by reclaiming the excess from our eight regionals of 2016. We began the year with $1,487.21 and ended with $2,145.46, a net gain of $658.25.
I started this report with the change that took place in our Ohio District OIJGC Program in 2017. I am ending it with more changes in the program's future. In 2018, there will be no golf played at the Tam O'Shanter Course since it will become a part of the Stark County Park System. At this juncture, the 2018 Ohio North Optimist Tournament will be held in Toledo, most probably at the Heather Downs Country Club. And, due to my retirement as Ohio North OIJGC Chairman, after serving 37 years, 11 years as Akron Regional Chairman, six years as Ohio District Chairman and one year as Ohio North Chairman, the new Ohio North OIJGC Chairman will be Dan Sutton of the Toledo Westgate Optimist Club.
I would be remiss if I didn't name some of those volunteers, who year-after-year have given their time and energy! I cannot stress enough how our Tam O'Shanter tournaments could not be conducted without their assistance. So, it is with much gratitude that I express my appreciation for all our volunteers: The Optimists were from Akron Breakfast- Bob Fott, Dan Fouser, Sue Hagen, Bob Rohr, Ken & Helen Spahr, Tom Vukovich and Debbie Walsh; Herb Loewlein and Lila Nissel from Cuyahoga Falls Breakfast and Bob Gandee of Akron Noon. Also included were four personal friends and Sue Hagen was responsible for bringing in three family members. They all worked at "Bringing Out the Best in Kids!"
Last, but definitely not least, I have saved the most important, the most loyal, the best assistant chairman anyone could have and, the most talented techie I know, Rick Buchanan! To be successful with any venture, one must surround himself with successful people. The best move I made early on was getting Rick Buchanan to be my assistant chairman. In 2006 when long-time Akron Chairman Bob Anderson, who served in that capacity for 17 of the 36 years we had the Akron Pre-Qualifier, out-of-the-blue, picked me to succeed him. I was shocked! My involvement previously had always been to handle the scoring and publicity. I quickly sought out Rick to assist me as I did my on-the-job training of golf tournament management. That first year Rick and I computerized the scoring, combining my experience and his talents with the Excel program.
Later, I am proud to say that together we revolutionized the Ohio District OIJGC Program when we took over the chairmanship for the 2011-12 year. Rick developed a tremendous power point presentation as we overhauled the previous system used by Bill Brewer, one that depended heavily on the United States Postal Service, and moved our communications into the internet and the email systems. We also had to acclimate our junior golfers to our new system and get them to go on-line to our Ohio web site that Andy Hudson and Rick developed, for registration, getting tee times, results, and all other information on Ohio Optimist Junior Golf.  Although change comes hard to some we made it so much easier for our junior golfers and the managers of the other pre-qualifiers around the state.
So, my deepest appreciation to Rick and all those other Optimist members who over the years gave of their time that helped us have smooth-running tournaments!
By Ken MacDonald, Ohio North District Junior Golf Chairman